but I've heard a lot of stories and I do remember what I've been told.

My grandmother said I was really good at keeping it secret that my Mom was in prison. I wouldn't tell anybody at the daycare that every Thursday and Sunday I would go visit my mom. If anyone ever asked, I would not say anything. My grandmother would take me after work and I was so used to the routine that when the guards would stop us to search us I would already be ready to lift my hands up and they would check my diaper to see that we were not carrying anything.

---
My grandmother said it was always as if I knew that I couldn't talk about this to certain people. She said once, one of our neighbors said the word "bomb", I was two years old, and I looked at her and said "Shhhh!" and "No!" as if to scold her. I can only imagine it. Once I read an interview with my mother, where she told the story of us playing, here in LA, and I told her that I used to have a Mom who looked just like her. It was news to me! She's told me how she was taken from me and how she gave me to her friend as though she were my mom. So I could see how that would make me think that she wasn't my real mom. She also told me the story about how I had the idea that I locked her up in the closet so that they wouldn't get her because I was trying to protect her. In my mind there were so many different things going on I had to pretend so much. Like when we crossed the border I pretended that I was my Tía's daughter. My dad's sister was already here in the US and I pretended to be her daughter to cross more safely.
I was very confused. Not only that, once we got here my Mom started using the pseudonym Sara Martínez for protection. She was getting death threats for a long time from local people and then from people in El Salvador who knew that she was trying to get away and escape the situation. That was a whole other level of confusion and clandestinity, because Sara is my name. People would ask me: "Oh, you're Sara, just like your mother!" I would just nod my head.
I knew that we had come from a country that was in the midst of a serious war. I knew that I didn't have a dad. I was sad about a lot of things. I knew I couldn't be with my grandparents. I knew that I didn't really have family, like other people. And I always knew that there was something different about me. It's so funny–I always felt like an alien and then I even got that little card that said Resident Alien and there were all these weird lines on it. It was so otherworldly. I remember thinking Ooooh, I guess it's true." I was like nobody that I knew. I could not relate to anybody.
I bottled up a lot of emotions. There were so many things that I didn't have any control over. Although the first five years of my life were very chaotic, I was blessed to have a lot of caring adults in my life that made things easier. I always felt protected and loved. Then my mom and my first stepdad split up when I was 12 and I got really angry. I think that probably helped because I hadn't been angry about anything up until that point. And so I started getting angry about everything and that actually opened up space for my mom and I to have the beginnings of some conversations. Like "Well you never loved this dad and you probably never loved my dad! And tell me more about him!"
I remember her stories like a romantic blur. They got married under a mango tree. They loved each other, they worked together, shared the same ideas, the same beliefs. He loved to read and he loved different philosophers. He gave her the nickname Zarathustra, which is from a Nietzsche book. He would call her Sara for short and that's why they named me Sara. My grandmother would tell me stories of him laying out a petate on the floor and sitting me down next to him and his stack of books while he read and I played. I was always so proud that my dad was a philosophy professor. Those stories make me really sad, because I would have loved to know him.
After the peace agreements were signed in '92, my brother and I traveled to El Salvador alone. It was amazing. My grandmother opened up her magical closets with boxes of albums and photographs. Baby pictures of me, photographs of our family in El Salvador, things I had never seen. The great thing is that my step-dad used to record us all the time and take tons of pictures. We would have slide shows in our living room. It reinforced that my present was solid, that we were okay and had joyful moments as captured by the camera. My past however, was always a huge mystery to me. So when we visited my grandmother and heard all these stories she told, I knew this was my history. I felt this strong connection. I had found my bellybutton…this is where I came from.
When I was 13 I started dancing and that was my outlet. The arts were always the big thing that allowed me to be me more. At UCLA I was in the World Arts & Cultures program. I was also part of an organization called "Conciencia Libre". We would go to protests and it was about opening up our own minds, sharing stories, and taking action. Schafik Handal who was part of the FMLN came to talk to us when he was in LA. It helped me to become more aware of struggles happening here with immigration movements and the immigration "reform" movement, and in other parts of the world. It's so funny because I wasn't really politicized until that point. Which is so weird, right? It's not that I was a conservative person. I just hadn't learned about my own people's movement, much less other people's. And I grew up in the middle of it.
We were always at protests and at meetings. My mom is amazing. She was always speaking to large crowds. In the community she was seen as this small woman. But I knew she had a big voice. Most of the time at those meetings it was all men. She was always a firm believer that, A woman's place is not just at home taking care of her children. If you've got things to do, you bring them with you, they've got to be right there with you. She has always been very strong. If she made up her mind then that was it. It was going to get done.
So I would get dragged to these things all the time and I was like, Politics? If that's politics I don't want to be involved in politics. This is not fun, it's very time-consuming. She's never home with us. And it didn't seem like much of a life for me.
I didn't start a healing process until I was in college. I started working at the UCLA Labor Center. My second summer there I ended up being part of their summer internship program and that was the beginning of my being able to put my family's history into words. I had this great mentor in the program. We talked about my Mom and she encouraged me to ask her questions. It's not that it had never crossed my mind. It was just one of those things: We didn't talk about that stuff. And so I became more and more curious. What was the history of El Salvador? What was her part in it? "Tell me everything!" So the conversation started.
It was really good to finally know from my mom, to have her explain it and every time, it's like a cryfest. We're both in tears because it's really hard to talk about it.
Then I took this other class "Beyond the Mexican Mural" at SPARC with Judy Baca and in that class we had all these amazing guest speakers. Someone from the Black Panther Party, the director of the theatre group from downtown, LAPD, Los Angeles Poverty Department. They work with transients, the homeless population of Skid Row. I was exposed to so many people who were doing this kind of work in the community and I was finally recognizing my mom as being one of them. People who are rarely recognized for their amazing work in the community. They're just people who do what they need to do.
I've learned that it starts small. It starts with a conversation. It starts with a small group of people trying to figure out what actions they can take to meet a need and how they organize in order to get that message to people who have some kind of say in that. I began to understand what the Solidarity Movement and Sanctuary Movement were. Before I heard those concepts being thrown around all the time and I would tell my friends that "My mom is a community organizer? But I don't know what that is. Sorry." I couldn't understand why we were always at so many meetings. It was so abstract. As I think about my mom, I wonder how she was able to do all that. I'm still amazed. A small group of people affected such a large community. It is amazing.
The cool thing was that we had a class project to continue The Great Wall: the longest mural along the LA River. Our class project was to do the Sixties, Seventies, Eighties, and Nineties. The TA, who is actually a good friend of mine now, encouraged me to do the Eighties. In doing so I got to learn all this history about what was going on here and what was going on there. It gave me that push and I again started going back to my Mom and asking her questions and discovering things. By the end of my career as an undergraduate at UCLA I had I decided that I wanted to make a short documentary as my thesis project. It's about three generations of Salvadoran women who are poets. So I interviewed my Mom, of course, I interviewed the powerful Maria Guardado, and I interviewed one of my peers Jessica Grande. They all shared about their experiences of the war in El Salvador and how they have used poetry as a tool to speak truth to injustice, to express devastating realities, and to heal.
I finally had the courage and desire to put myself out there and announce to the world that This is me because I could see myself in all three of these women. I was finally able to connect to women like me and share that with my friends and family. At the time there was no real community of Salvadorans at UCLA so I had to go out of my way, and once I did I knew I had to continue doing that.
It's like finding your place. It's such a strange thing. I never denied who I was. I just always felt that it wasn't safe for me to share what my family had lived through.
I fell in love with teaching and the idea of changing the world through education. I taught in Pico-Union for 8 years before fully transitioning to working on telling stories through video.
After my daughter was born I started a documentary about motherhood and women artists, how even after you have your child you have to keep going, you have to have something for yourself. Some people think that once your child is born, your creative life ends. I interviewed four of my friends who had also recently had children and who are amazing artists in their own way. The process got me doing my art again and got me to connect with them and got my daughter exposed to other kids. She's 8 now and she's so funny. She loves her grandmother and she's a lot like her.
The momentum from the project kept me going. Then I started another. It's our story of coming to the United States.
But the documentaries aren't finished. So I transitioned out of teaching full-time to subbing and now I've started working for myself doing video work. I'm finishing up projects that have deadlines for other people but I also have deadlines for myself. I've got to tell our story. It's focused mainly on my mother and the work she's done since coming here. It's a very personal story of what happened. All the stories from El Salvador are not the same but still there are a lot of connections–how the war influences and impacts our lives and the lives of the community. And it's about how a community can organize itself in order to make change.
These are my projects that need to come to fruition.
The Perez Family: Tonatiuh, Rossana, Sage, Sara, and in front, Sol.
Powered by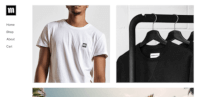 Create your own unique website with customizable templates.