Seven years in immigration detention. They just release me on bond in May. Three months ago. Why didn't they release me on bond seven years ago? What changed? I am the same person. I never had any arrest for anything violent or anything like that. On my record in my life I never been violent.

They take seven years out of my life to be with my daughters. I am a good father. I changed their Pampers, I be taking them to the park, picking them up from school, everything. And I don't lie to them. I tell them the truth. If I do something wrong, I tell them. And sometimes they tell me things they don't tell their Mom. But I never been telling them before what happened to me in El Salvador. I don't want to give that kind of worry to them about what happened long time ago.

I was born in El Salvador. My father was architect and I would work for him, watching him. Since I was maybe seven years old, sometime he give me something to draw. I used to do that in his office, and I was looking to be an architect someday but I had to run away. I come to the United States in 1981.

The reason was the war. Roberto D'Aubuisson used to live like a block and a half away from my house and I was a friend of his son Carlos D'Aubuisson. I knew Roberto D'Aubuisson was ARENA [founder of the rightwing political party] but I didn't know he was a military or what he do. [reputed to be godfather of El Salvador's death squads and mastermind behind the assassination of Monseñor Oscar Romero] We was neighbors.

One day I'm going to visit a friend and one of the bodyguards say Where are you going? Wait for me, I'll make you company and go with you. I was hungry and I invited him to join me. We go to a place where they serve pupusas. So we sit at a table and we order and receive the food and someone with a white shirt come and sit in front of us. I know his brothers. I don't know their names. I just know where they live. Anyway when they serve the food to us, we don't used to eat a lot of chile there and that day they put a lot of chile on the food and I taste it and Ooh! This is hot! Then the bodyguard taste it and he say What happened? There's too much chile. And the one in front of us says Oh, chile is for men. You know because of the condition of the country, no one tolerates a joke like that. When he say that, the bodyguard don't like it and he pull the gun out. He put the gun right here on the guy's forehead and he cock the gun. I stand up and moved away. I thought he was going to blow his head awat. He say, Repeat what you say. The guy's face turned white, same color as his shirt. After that, thank God, he let him go.

But three days after that, two of the brothers of that guy and another guy came. They surrounded me. They take me by the arm and they searching me. They say somebody told them I have a gun. I say I don't have a gun. I don't have a reason why to have a gun. They let me go but 4 or 5 days after that, they was hiding, waiting for me. They grabbed me, they cover my face. They kidnapped me.

I was 17 years old, going to school and working with my father and I never miss a day to go home, to sleep in my house. That day I didn't show up at home, so my family was worried. They went to the police and the police said they don't have no time for that because they are busy with the war.

Those seven brothers keep me in a house. One of the kidnappers, he have seven cuts on his rifle. I say, What that mean? He say he killing seven Army guys. Then they move me to another place where they had a lady and a guy. Their hands and their legs are tied. They put something in my mouth to keep quiet, you know. It's hard to remember this. But anyway they went to the guy and they're telling him he is going to be part of the group, the guerrilla, and the guy say no. They say you sure? He doesn't want to be part of it. pum pum. Two bullets, one in the head, one in the chest. He's dead. They ask the lady and she say she not going to be part of the group. You see what happened to the guy? That's what's gonna happen to you. They cut the rope. They had some wood, they put her on the wood, tie her legs. They take her clothes off all of them and tie her hands behind. They left her with the legs open and they rape her, one by one.
They ask me if I want to be next. I say No! They say to her, You want to be part and join us. She say no, even while she was crying and everything. Two bullets, one in the head, one in the chest.

After he kill the lady, he say, Now you know. Now you see what happen you don't want to join us. He put the gun in my mouth.

There were three holes in the ground. They put me down inside one and put wood to cover the top and they put some sacks with dirt on top of that so I cannot push out. I was trapped and I was tied with my feet and legs.

And you know I been feeling like that in immigration detention, held captive in a different condition but the same feeling. You know, the trauma of taking my freedom away. An officer from ICE put me in a room and say do I want to sign the papers, blah blah blah and I say No, I'm not going to sign and he say You are stupid, idiot, and he's insulting me. He slammed the door. The doors where they locking you in, they are 300, 400 pounds, very heavy. You can hit those doors with a hammer and they don't break. He locked the door. In that moment I was feeling trapped. I'm here asking for political asylum. I'm supposed to be feeling safe, you know in the United States, but here I'm in detention and this guy is insulting me and doing me like that.

When I was in the hole in the ground I find a root in the ground and rub and use it to cut and freed my hands and my legs and with that same root, I'm poking up at that wood, and I'm poking holes in those bags and dirt come out and I'm burying myself. But I freed my hands and my legs and finally I push and I finally moved up and I pull myself and I got out.

They notice I wasn't there and it was dark and they start looking for me and they say If you see him, kill him. Don't let him get away. Shoot him. I see them. They walking close to me. I don't know how many hours passed that I stayed in the same place without moving. It was cold. In the morning, two cars pass by but they can be part of them so I hide. But then I see a little pickup truck and it's a dirt road, and I ask Can you give me a ride to a bus or something? and he says Get in the back, and that's how I escape. I went home but then to somebody else's house. They looking for me so I couldn't stay in my house because they know my family and where I live. They knocking on the door and they screaming my name. I don't know these guys' names, but I know where they live. I know them. Neighbors. Even the lady they raped is a neighbor, their own neighbor.

So that's how I got here. At the time, I don't know about asylum. I don't know what is asylum. I just working working working. I had to survive and I had to help my family and I was sending money to them.

I'm married in 1985 with American lady so I got temporary legal status. The law at that time was you're supposed to be married at least two years to get permanent legal status. Two months before your second anniversary you're supposed to send your papers. I sent the documents to Immigration but they say they never receive that paper. And then my wife leave me and go back to her old boyfriend. But they say I should do the application and the papers came and they told me I have to go to the Embassy in El Salvador for the visa and then come back.

So I was working Monday to Friday, and Saturday, Sundays. I was working lot of overtime, sometimes up to 90 hours a week. I barely sleep. I do cleaning there and painting and my boss used to call me Mr. Ten Jobs because I know how to do a lot of jobs. Finally he give me another job. Because he trust me, he send me to pick up payroll checks, sometimes $210, 240,000 dollars of checks. I like him trusting me, trusting my word. That means more than a document to me–my word.

So I was supposed to go to El Salvador to pick up my visa. The day was Friday. I had the checks from two weeks, $1,000 something, and they give me my last check today $1,000. In 1987 that was a lot of money. 'Cause I was working a lot of hours, a lot of overtime, and I took out $4,000 out of my account. I put some in my back pocket and some in this pocket and some in this pocket and I went to buy some clothes for my Mom and my brothers and I bought a washer for my Mom with the money, furniture, things she needed, and I come to the store to buy a frozen Sara Lee cake for my Mom and I had the car key in my hand when this white guy put a knife–I don't know if you've seen the Rambo knife?–his was the identical knife, a big knife, he put it right here. He say, Get in the car. I say Take the car, and I feel the knife pushing in my ribs. He make me go inside. He's in the passenger side and I was looking him in the mirror to see his face and I have the knife here all the time. He say, Go here, go here, and I was purposely making errors, maybe the police will pull us over. Then he say, Stop right here. He say, Give me the money. I reach in the pocket and take out only some of the money, some twenties and I give him and he still has the knife and he keeps saying Don't look at me. He put the knife all the way down to the handle in my chest, all the way down, a big chrome knife, black handle. I grab it with my hand, I pull it out the whole knife and blood is coming out, a whole lot, puddles of blood between my legs. We struggled. He tried to stab me three more times. I had the knife in my hand and he grabbed my wrist and kept trying to kill me. It was like a movie.

Later in the hospital they said he cut my pancreas, my stomach and the liver. This guy really want to kill me. Finally he got out of the car, the car was moving really slowly, I put the car in reverse and I give gas. I think I knocked a mailbox on the side of the driveway and I went looking for help. I drive six blocks. I get to a liquor store asking for help and I see a cop right there in front of me and they was there in 30 seconds.

These are the scars, this is the one here and the one here, and this and this from the tubes from the hospital. I say I don't want to die. Please, I don't want to die. My mouth was dry and I know I couldn't drink water. I know if I drink water I die and I know this since in El Salvador I see people dying with a cut throat. In El Salvador, you see heads posted on the fence, just the head. That's what the guerrilla do. And the Army do things too. The Army, the military, is stopping people. I am walking to school and lots of times they put M16 on my head or here, in my mouth. One day I see a lady without a head. She was missing and they looking for her. The mother recognized the body but she say My daughter wasn't pregnant. When they lift the clothes, they see a cut and inside the stomach they find the lady's head. But you know, you get used to. Every day.

In the hospital was the first time they put anaesthesia for me and that's when I see the black tunnel. I never seen it before and my soul. I really really see pictures of my mother, my brothers, it all pass by very quick, stars and the galaxy. Finally at the end I see a light and I think maybe the anaesthesia wasn't working. Later when I woke up this lady is cleaning me and I say, You was there helping the doctor when they do the surgery, and she say How you know? The perfume she use. Obsession. It was new at that time the perfume, I smell it before, that's how I recognize her.

When the police come to the hospital, I can't talk. But later I went and they showed me pictures and I said That's the guy. I will cooperate, I will testify. When I was in detention, someone told me I should get one of the new U-visas for victim of crime, but the police won't sign the paper and to this day never did anything about that guy, even after he cut the throat of an old lady. Even to this day.

When I am released from hospital I go to El Salvador to get the papers. I still had the staples in my stomach. I come back and Immigration they was using that trip against me. They say I went to El Salvador and nothing happened to me. I didn't go because I want to go. I had to go to get my visa. Then in 1988 my mother and father both of them was sick and I went to see them. I only went there for eight days and they using that against me because I went there and nothing happened to me. But those eight days I didn't go out of my house. I was hiding because I'm afraid to go out because the guerrilla brothers have been looking for me.

Next, in 1988 they were saying I was selling drugs. They wanted to give me nine years and four months. It was a tiny amount of cocaine, a fingertip, too tiny to sell. My daughters know. I don't hide anything in my life or how much my heart is broken. They say Nine years, four months, but if you plead guilty, 60 days in jail. So yeah, I'm gonna take it! But I ask, Will this affect me for immigration? He say, No, no, that's not going to affect you. The judge say, OK, on the 27th of Sept you have to turn yourself in at this jail at 7:00 at night. It was a Saturday. You get released Sunday at 7:00 o'clock and that counts for two days. That's every Saturday and Sunday. The minimum sentence he can give me. I finished my days and they give me work furlough and I work. They release me at 6:00 o'clock in the morning and I work till 3:00 o'clock in the afternoon and then I come home. I do everything they ask me to do.

On work furlough they give jackets to people but they give me old one. Worn out, no buttons, no nothing. The next day, 6:00 o'clock in the morning they bring jackets for everybody and I bring my jacket and change it for another and this officer takes me to a hall. He's bigger, he's screaming, Why you take the jacket? Why you think you can do that? I can feel his intention. He is provoking me, hoping I do something. Why? he shouting. He hit me, pushed me. He was right up at my face. I closed my mouth so his spit wouldn't get in. He slam his forehead against my forehead till my head hits the wall. I see stars for the first time in my life and I see black. There is no camera in this hall, you know, and he go Come on, come on. I'm not going to be stupid to do anything to an officer. Even this officer. I knew that from my country. I respect them. To me it's not fair but police officer, security officer, or the law, whatever, I respect them, I don't joke with them. He's provoking me, but I don't do it.

So now I would like to know about that law of 1996 because I'm not clear about that law. [The Antiterrorism and Effective Death Penalty Act of 1996 made legal, documented noncitizens deportable for a wide range of offenses, including those committed years before the law was passed. Deportation was usually triggered when a person came to the attention of authorities, even for a minor offense or traffic stop. Some legal permanent residents were deported when they stepped forward to apply for citizenship.] In 2008 they want to deport me for something that happen in 1988? Because that law of 1996 says they can use the law retroactively. Isn't that illegal? That's wrong, what they've been doing with me. It's why I've been fighting this.

What happened was in 2008 I went with my daughter to Kmart to buy some candies for trick and treat. On that day, so many children start coming I went to Smart & Final to buy more candies. I picked three big bags of candy and one of the bags was open. You know those bags of Milky Way with little candy bars. I pick one candy and bite into the candy inside the store and my daughter call me. I leave the cart and step outside the door for the phone call, with the cart with the bags of candy inside the store and my daughter is telling me there isn't enough candy and I'm telling her I'm right now buying more. I walk back into the store to pay and the police say Stop and they arrest me. For one little candy! It's shame for me. And on November 10, they deport me. I mean not physically, but they got the deportation order.

Back then the lawyer I had, he just took advantage. Two months before I got released, I found out he lost his license. When I was in Lancaster, Mira Loma Detention Center, I was paying $8,700. My family–my daughter–was paying $500 every month. Face to face, the lawyer said to me Are you ready? Ready for what? To sign your deportation. What? He's my lawyer. I hire him to help me. I can deport myself! He continue my case and come to court and ask me for $3,000 more or he won't come back to court.

In Mira Loma an officer pick on me every single day. Every day I had to go and get my medicine. Every day he pick on me. Get in line. Stop. OK, go. Stop. Go. Make a straight line. Go. Stop. Stop. OK, go. Like I'm a dog. Sit. Stop. There's a line right there. Hey you. You see that line right there. Your foot is supposed to be. Stand up. Stop. No, go. Stop. Why he do anything like that? Then he's searching me. He's putting me against the wall. He say, You know why I'm searching you? No. You know why I'm searching you? No. Why you think I'm searching you? I don't know. Shut your mouth. So I shut my mouth.

Then they transferred me to San Diego detention to give me medical attention because my jaw at that time it locked. I could not talk and now my tongue, you see, involuntary, every five seconds, out, involuntary. Um mmm mmmm, just sounds. [This occurs throughout the interview.] Sometimes I can't eat. All this involuntary. It's not only my jaw. Even I'm home, I've been doing some light work in my house sometimes even in my house, working on my house, I cannot finish doing some things because I have to go and relax. I have too much pain. It hurts, even when I walk sometimes I have to lay down. Look– there is construction across the street. I can get a job right there but I cannot do it. We're renting to people because I haven't been working and we need to rent rooms. Latino, African. I don't discriminate, gay or transsexual. I don't care. They are people and I like them.

Even now, later, it's still in my mind. I'm talking to you right now and I'm still having too much anxiety. And sometimes if you see me eating and I cannot find my mouth and my tongue is sticking out and gwee nmmm and I put the food out, I can't get the food into my mouth. I'm still suffering problem from this. And from when I fell down from the slippery floor where the water leaked. I'm still in pain. Every single day. I need treatment.

In detention you wait weeks to be seen for medical care and they don't help you anyway, even if you're dying. I tell people Throw yourself on the floor and then I call Man down! That's the only way they going to help you.
I been paying my own money, the treatment, the medicine. Just from being in the detention I've been losing teeth. From the jaw problem I have. I've been losing my teeth, my jaw squishing hard, but they didn't even provide me with plastic guard. A mouth guard because the jaw it locks or it goes moving like this.

Day and night, every single day I don't sleep. Just to know I have to go to court, back to the detention center, my mouth give me this reaction. I get like this just to know I'm going back to that place where I was captive. So I say, Your Honor, please, I want this resolved as soon as possible. Mentally, it's all I keep thinking even though I'm here at home every single day. Sometimes I don't know the day, 20, 23, 24–I don't want to know the day because time for court is coming and I have to go back there and mentally it's affecting me.

I'm a person I'm not easy to cry. Sometimes I want to cry but I can't. I want to release that but I can't. Sometimes I want to have a friend I can tell something. Sometimes I tell my daughters. But to me it's a burden to tell my daughters so I don't. But I have no friends. Nobody want to know because I understand sometimes is too much weight, too much pain for them. But then I don't have nobody.

I am nice and sweet with my daughters. I love my daughters. Marlene used to go under the car with me when I'm working on the car. She grab the screwdriver and I'm feeling good to see she's watching. I was working the other day scraping some paint and she come around to help me and I say I don't need a boy anymore. Thanks God I got a girl, two girls, because I been happy with my daughters.

Even when they marry, I want them to stay here with me. I missed them. You have no idea how much when I was in detention I was missing my daughters. When I was in detention, everything was going through my mind: they can be vulnerable, they can have a boyfriend taking advantage, this can happen, that can happen, a lot of things going through my mind and I'm going to feel guilty the rest of my life thinking of what can happen.

When I left my daughter Marlene, she was a little girl. Even my older daughter when they take me to detention she didn't have a boyfriend. And when I say boyfriend I mean kiss. I don't mean sex! Because that is to give to your husband after you marry. That's what I tell them, both of them. Don't do that! My older daughter, I told her if you gonna have a boyfriend, before you tell him yes, I want you to come over and tell me. Well, she went all the way to Lancaster, Mira Loma just to tell me Daddy, this boy wants to be my boyfriend. I say, You give him answer? She say no! She say, You remember, Daddy, I have to tell you first. You give me permission? I had no choice. I was locked up.

I give advice to their friends too, because maybe she bring a friend and she looks young, she looks so innocent but maybe she grow up without her father or without her Mom or maybe even if they grow up with the Mom and the Dad maybe they don't listen to their parents. Maybe they don't listen to them but they listen to somebody else. That's why I do it because sometimes I see some girls sixteen, seventeen years old with a baby and the baby don't have a father, and that's so sad to me.

Sometimes I'm sleeping. I'm thinking I'll get used to it and then it's all coming back to me. They're screaming, all of it, and one time the officer says to me explain what happened, why they put me in segregation. So I explain. Oh, she said, you're a jerk. I say, Excuse me? She say, Yeah, you're a jerk. I want to know why is she insulting me. She say, Because you are a jerk.

In segregation you are alone in the cell. They don't let you keep your commissary. They take it away. They put a chain on your waist and your hands and your feet like a criminal. What happen, everybody complain about the food but nobody do nothing. One day somebody organize a strike that nobody eat breakfast. They start to do an investigation. Who was behind it? I knew but I didn't tell. I had nothing to do with it but they blamed me and put me in segregation for nine days. That was unfair. They say, Here's your paper, you're guilty. Why? They don't even do interview or nothing. I didn't even see him writing. He already had the paper in hand, the decision. Guilty.

So I'll tell you about the food. This really bad person–now he's even higher up–one time he send the papers with a lady. They give us a form, what we want to eat for breakfast, lunch, and dinner, and another form, what we don't want to eat. We put we don't want potatoes because it's famous there to serve only potatoes. They have potatoes they put in the water the day before and they serve it like that, they don't even cook it. You cannot eat that. They give you mash potato for lunch and something with potato for dinner, this thing–they call it meat–saturated with grease. I say I don't want potatoes. It was a trick. They only give us what we say we don't want and they take away what we wanted. We keep it quiet we filled out that form. The others will blame us for the bad food.

The trays they have there, they are all dirty. Dirty dirty dirty. The tray where they serve the food was like being taken from the bottom of the ocean. Green. Mold. I was complaining about that. It smells real bad. Stinks. They put the potato and this is where they put the salad, on the tray. There's no plates. Just the tray. Anyway they send me to a specialist. They put a tube down my nose and the specialist say I have fungus on my throat. They give me a treatment. a very yucky treatment. After I take the whole treatment I still have fungus, after more treatment they send me back and say I'm OK and they do a fecal test. They send to the laboratory and they say there's H. pylori or something like that. For sure, every single thing from the dinner because these trays are so dirty. Sometimes I cannot believe the government inspector comes and they pass the inspection.

I got another lawyer. He's the one who did my brief for $5,000. I don't how my family is going to make the payments. I was waiting waiting waiting for response. A year and a half ago I was ready to give up because I was tired.

You know there was a time I ask to be deported. Almost three years ago, my father was sick, very sick, and I couldn't be there. I wanted to be deported. I wanted to see my father before he die. I say I don't care, deport me. I want to go see my father, he's my father and he's dying. They didn't respond. So then I ask for the counselor and I say Please, I want to call my country. I have money on my telephone to make a phone call. I have money on my books. This is an emergency. My father is dying in the hospital. He say no to me. Please, I'm begging you. This is an emergency. He say no. The next day my father die.

After seven years, I gave up, when I got a surprise. They reopen my case. I got a decision from the Ninth Circuit that they reopen it. But that means I need a lawyer again and how to pay? Everything is very hard, very difficult. This other detainee was helping me but they move him to another detention and you know from detention I cannot send mail to another detainee. I was sending the papers to my daughter. She open the envelope and put the papers in the mail to send it to him and he was doing the same thing to me. I was paying him to do that. He was helping me, but then he got deported.

I try to help other detainees too. I write grievances. I make them spray the whole unit for bugs. And in San Diego I was working in the library. One of the officers is a very nice, educated person and he give me that job. I was keeping that position for four years. Now they call it library, but in a library you have books and in that library we had books before but now the wife of one of the top chiefs came there and there is not even one book. Only computers. Some people doesn't even know how to use a computer and officers won't help. I was helping people, I was making copies, I was telling people what to do. I tell them let me see if I can get you some information. A gay or transgender person from Honduras or Guatemala, they arrive, they don't know what to do. I would find information and make a copy, here, this is going to help you.

When I get out, I left my telephone number and people calling me, even people I don't know, they telling me what's happening, and complaining, and asking me what can I do?

You know 6 or 7 times they see how they can deport me. They try to trick me into signing the deportation form. They give me my clothes and wallet, pretending I can go home, and say Sign this, quick, quick, too many people, we have to hurry. And they cover the form so I can only see the bottom. Sign here! No! I don't sign! I recognized the form. It was the deportation form.

I helped some people who were tricked into signing the form. I gave them a different form to stop the deportation. Four copies. Keep one in your pocket. I am so happy I even saved some people who were already on the airplane.
I don't want these things to happen to other people. I want that to stop. I see people dying, complaining, with fever and everything. When they can't eat, I been making just hot water for them to drink. They tell me, They did this to me and they did me that. It's not right to do bad to people. We are humans. We have families. You know that San Diego detention center is run by CCA. It's Corrections Corporation of America. They are making money off our bodies. Isn't that human trafficking? That's a crime they are committing every single day.
​

Victor's daughters will share their stories here soon.
---
Powered by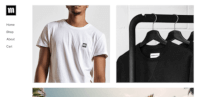 Create your own unique website with customizable templates.