---
I am Rossana Perez. I am from El Salvador and I am in this country 30 years.

Where do I begin to tell my story? With my body? My body is tattooed with a history unknown for many and painful for the ones who know about it. I carry that story with me.


---

The body has a memory of its own…it remembers my grandma's hands cooking soups and stews and pupusas to comfort me, and it remembers the hands of those who inflicted pain.



When I was a little girl, I wanted to be a professor. Even though my brothers and sisters were older than me, I would tell them to sit down and listen. My grandma used to say, "You're such a mandona, so bossy, always telling everyone what to do."



And my great-grandmother used to tell me things. She didn't have any formal education but she was a very strong women. She used to say, "Women--what they need is a good pair of hands and a good pair of legs to go and look for a job."

read more

I am Tonatiuh Ward, Rossana's son. I was born in East LA. I was 10, maybe 13, when my cousin told me my Mom had been tortured. We never talked about it at home. My Mom never told me. My sisters never told me but when I found out, it made sense. I always knew there was something. The way my Mom was, well, hypersensitive. About everything. Over the years, I'd get -- I'd call them dribblets -- of her story.



And my Mom's amazing. I love her and also, what most people don't know is that she's hilarious. They don't know how funny she can be. Really really funny. And that's what I want: to do comedy.





But after I found out what happened to her, I think I brought a lot of stress and burden to her. I became so angry and so sad. I started wondering why she brought me into a world where something like that could happen, where those men could do such things to one of their sisters.

read more



---

---

I am Sara Aguilar, Rossana's daughter.

I was born in El Salvador.





When I was 11, someone gave me a journal. It was a diary complete with a lock and key. I would write down the most mundane things of my life, like my favorite movies, and I kept these records of everything. The simple act of sitting down and putting my own words on paper was a way of establishing my identity.





I was so confused for so long. For a long time I had no idea what happened to my mother, and our history. My mom wasn't able to explain anything. I think it was too painful for her and it was also too much weight for me to bear as a child to have to hear any of that. No one explained anything to me until much later.



I do remember certain times… Little things she would tell me. When I asked her why her eye was red she said, "The police got me and they hit me and they threw me on the floor."



It was devastating. I wondered how anyone could do that to another human? There was always a little bit of fear.

I don't remember actually being in El Salvador as a child, read more

---

I am Sage Scanlon-Perez, the youngest of Rossana's children.
My mom's kind of a quiet one. It's weird because I see my Mom and I think that I don't really know her. We just had a fight this morning and she's saying, "Well, if you think that, you don't really know me," and I thought, yeah, that's right.



I'm 18. The baby of the family. Born here. My Mom and I are not as close as she and my sister, Sara. They just have a special thing and that definitely has to do with what they went through. I think it's good that they have each other. I think it makes them stronger to have each other because they left everyone, the whole family in El Salvador, behind.





Something I've noticed a lot: my Mom won't ever let herself smile all the way. My sister has the same thing too. They will stop their smile, and they try to crush it.

read more






---
I am Sol, Rossana's granddaughter.

I'm 8 years old.





I want to study and I want to go to UCLA. Like my Mom. Now my best thing in school is math. I love puzzles and math is like a puzzle. I also love art.





I like to draw with my Mom and sometimes we like to color dresses for paper dolls. And I like how my Mom makes me laugh.





When I grow up, I want to be designing clothes. Why? Because I go to vintage stores with my Mom and my tía and the clothes are so beautiful.




And this is the family tree I made. It shows everyone's talent and what their work was.
---
There's my Papi.
Those are his paintings. And this is a picture I did in first grade about Rodolfo. That's my Mom's Dad. He died in a war.
I speak English and Spanish. I went to El Salvador twice. Once when I was a baby and then when I was in first grade and I liked swimming with my tío.
We went to a beach house where there was a pool. It was so much fun.
My Grandma is amazing and I love her and I love making lemonade with her and pancakes and going swimming with her. I love when she comes over here and I love when she makes soup with lentils and carrots. Also she's always giving me little things, like a little spoon. It's really cute and it has a design of an owl on a tree. I like everything about Grandma. I look up to her. She has her Masters and stuff. And she is always making poems and we get along so good.


All of the family stories are included in the PDF that can be downloaded here.
Powered by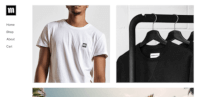 Create your own unique website with customizable templates.