Maria Guardado has left us.

Born in El Salvador 81 years ago, her activist work in organizing campesinos, teachers, and other workers for the UDN (Unión Democrática Nacionalista) led to her abduction and torture by the US-trained and supported military on January 12, 1980. She survived, in part because Archbishop Oscar Romero called publicly for her release. (Yes, she was released, but naked, near death, and dumped by the side of the road.)
Suspicious of the United States (for obvious reasons), she was convinced by the Sanctuary Movement to seek refuge in California. Granted political asylum, Maria Guardado used her second chance to continue her work. Even in recent years–aging, tiny, still afflicted by the trauma she endured, but always determined, and though she never had much money, Maria managed to be there to speak out and to protest wherever there was injustice or oppression to oppose. You could find her at the gates of Ft. Benning, where Latin American military officers are trained, or holding protest signs in front of the White House, or speaking in Los Angeles at meeting after meeting where she often read from her poetry. I heard her read "Madre", which you can find here, many times.

How could we create a website dedicated to survivors and not include Maria Guardado? But the last few years, weakened by the cancer that claimed her life on May 16, 2015, Maria didn't have the strength for an interview. So this post is, instead, a tribute.

She lived long enough to know of the mural in her honor (shown above) painted in Mexico City in 2012 by LA artist El Mac (Miles "Mac" MacGregor).
---
This more recent mural appears on a wall in South LA.

She didn't live long enough to see Monseñor Romero beatified by the Roman Catholic Church just a week after her own passing but she knew this step on the way to sainthood had been approved for the man who was labeled a subversive and assassinated by the same rightwing forces that tortured her.

To learn more about Maria Guardado, please watch the short (and subtitled) documentary by Randy Vasquez, Testimony: the Maria Guardado Story. We note that for the Second Chances LA website, we've chosen to focus on the accomplishments of the present-day heroes whose stories we present and the challenges they face in starting over. Our storytellers have only touched on what they endured and have avoided saying much about the almost inconceivable suffering that some human beings can inflict on others. But in her Testimony, Maria tells in graphic detail what was done to her. We heard this account from her lips many times, and for anyone who thinks to minimize torture as "enhanced interrogation" or akin to a hazing ritual, her explicit recounting is difficult to hear but essential.
---
Maria Guardado rallied us, she shamed us for our nation's complicity, she inspired us. If she could keep going, how could any of us lag behind?
She's with us.
Maria Guardado – ¡Presente!
Powered by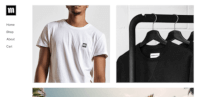 Create your own unique website with customizable templates.