The therapists and staff at the Program for Torture Victims let clients know about our theater and oral history project, led by our Artistic Director, Hector Aristiz
á
bal, who is himself a torture survivor.
Once a client expressed interest in participating, we'd schedule a first meeting just to get acquainted. We would meet at a place of the client's choosing which usually turned out to be at the PTV office or their homes or in public spaces such as parks.
We would talk about both phases of the project, explaining that t
he theater project would require a significant commitment of time, for workshops, rehearsals, and performances.
When someone could not make that commitment but wished to go ahead with the less time-consuming oral history phase, we met again to tape a first interview.
From hours of audio recordings, we prepared transcripts and edited oral histories which we shared with the participant who could then add or delete material and make corrections as well as any desired changes. From the start and at the time of follow-up interviews, we always assured participants that absolutely nothing would be made public without their approval and consent. Some interviews were edited extensively to remove any details that might lead to identification of the speaker. Some participants ultimately asked to withdraw from the project because of the potential danger of posting material that could be accessed by almost anyone anywhere in the world.
In some cases our participants introduced us to their family members and gave permission to include them in the interview process so that the experiences of their partners and of the next generation could also be more widely known.
For safety reasons, some participants did not want to be photographed or their faces shown. We asked them in those cases to draw a picture or choose a symbolic image to represent them on the website.
Our intention was never to focus on how these men and women were tortured and how bad it was and how long it lasted. We wish to show them with all their strength of character, their commitment and knowledge and skills. We hope this project highlights the considerable gifts they bring with them to Los Angeles and which they long to have the chance to offer us and to give.
Powered by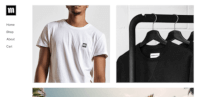 Create your own unique website with customizable templates.