And my Mom has become so gentle. Have you ever noticed? She gets a paper cut and it's like "Oh no, do you see that?" and I'm like "Mom, there's literally nothing there." Then I think of what happened to her–prison, torture, and I'm like "How did she do that? How did she get through that?" And I think it's probably that now she can show "Ow, I'm in pain." I consider myself to be strong but I don't think I could go through what she did. What does that take? You can't really imagine that, right?
Since my sister went through part of it with her, they talk about it. Sara can get very emotional. She cries because she's very close to this and she's very supportive of my Mom.
But my Mom doesn't tell me about it. I have to ask. Like I had to do a report in 5th grade and I remember saying "OK, tell me everything right now!" Then I went to a camp one summer, it was a pretty political place, and "OK, I need to know before this camp because it will probably come up so tell me more," and she says OK. It's not like she doesn't want to tell me. It's just more like she didn't really ever feel the need to talk about it. I know there's stuff I don't know.
I do know there was a civil war in El Salvador. She said there were 14 rich families in charge and it was about getting the power back to the people.
What she's told me is she went to a Catholic school and she and her friends would come over and make coffee and they'd just chat. And she started going to marches and stuff when she was like 13, and her Mom was very much against it, but she continued to go. And when she started going to the university she became more involved. That's where she met her first husband. And then there's a lot of stuff I don't know because there's a lot of secrecy there for her too. He was a lot more involved than she was and there was stuff she didn't know. He was disappeared. They don't know what happened. They assume he's dead.
If I could ask her something right now? I'd ask if she'd do it again. I guess she would. I know she would.
So I don't know a lot of the specifics but I know that her family started being part of it. My grandpa was shot at and I know that when they arrested my mother they arrested my aunt and my grandpa. My Mom pretended my sister was someone else's baby so she didn't get taken. My mother went to jail and then she got moved to a women's prison. My grandma would visit and they'd make her strip down in front of my Mom and search her. Then the Red Cross came and then she went with my sister and came up here.
I grew up with her so I was pretty involved in everything. She'd take me to meetings. She'd take me to rallies.
But I was kind of a bad kid. She didn't like leaving me alone and I remember once she wanted me to take me to a rally with her but I wanted to stay home. We argued and I hid from her. She was so terrified, I felt awful.
There were many battles growing up. Basically, I was always really stubborn. My Mom is someone who was willing to cooperate and I was not.
But some of it is just like, as I said, I don't know everything about her. Sometimes she reacts in a way and it's kind of a surprise because I probably touched on something but I just don't know. And there's this cautious thing. She did not want me going out by myself. I was 12, 13, 14 and I had two friends in walking distance but she did not want me to walk by myself. And I'd be very independent, like "No, you're gonna let me walk." Or my friends and I would hang out at the mall and she would get out of her car and walk me all the way to the store where I was going to meet my friends and I was like "No, you can just drop me out at the corner. I'm fine." I'm assuming it's because she had that whole thing where her husband left one night and he just never came back. So she's worried, if I'm leaving to walk to my friend's house am I coming back?
With my close friends, a lot of them say stuff like "Your mom's so cute with all her embroidered dresses." Yeah, and she's a lot more than that! My close friends have known some of the stories. In World History in 9th grade when they talked about the revolution in El Salvador, I mentioned that my Mom's been part of it. Also, my friends who've been around my house and around my Mom a lot, she'd say something and they're like "What?" and I'd explain. My brother's friends, they were just being boys. They weren't hanging around asking "Hey, what's your Mom done?"
Anyway, she got here and she married my brother's dad so she could stay here and then my brother came along. But they weren't in love. Then my parents met working at CARECEN [Central American Resource Center) So she got divorced and married my Dad. Both my parents are very politically minded and politically active so they would take me to all the meetings and there were always a lot of conversations. My great-grandfather on my father's side wrote a book, "Are We Slaves to the Corporations?" and actually ran for Governor of Massachusetts on the Socialist ticket. So I grew up hearing mostly about American politics and not so much about El Salvador. I'm interested in politics now. I definitely grew to like history and so in high school she'd tell me more stories and wow! it's really so cool, but as a kid I'd tune it out a lot.
When the Occupy Movement was downtown, I went there. I worked on the mayor's campaign. I worked with MALDEF [Mexican American Legal Defense and Education Fund] this summer. And I'm finishing high school now but I was accepted early decision to Tufts University in Boston. The International Relations Program is what they're known for.
My Mom definitely hasn't become Americanized so I definitely feel some connection to El Salvador through her. She's done a good job of staying true to her roots. I am probably the most American of the children though my Mom and sister, they definitely accept fads. They cleanse and they shop at Whole Foods and at farmers markets and I tease them--You guys are more into this than a lot of the people I know.
When I was little, a baby, I went to El Salvador but I got sick and my Dad got worried so I haven't been back. My grandma visits here and we talk on the phone, but I don't speak fluent Spanish and I can't really have conversations with her without my Mom helping. So it's sad that I have my family down there that I don't feel connected to but they're so loving that I definitely feel them.
In the books I read, a lot of immigrants emigrate in order to better themselves and for opportunities but my Mom didn't want to leave. She had to leave and that means a different mindset when she came up here. She's told me that she didn't want to leave and I don't think she would have left if she if this hadn't happened. It was just her birthday and she said "I've spent more time in this country than in my real country." She has an attachment to El Salvador. She nearly died for her country and I think someday she'll go back.
And it's funny when I think about this, it's like wow, terrible things happened to bring my Mom here, but if they hadn't I wouldn't be here. So that's weird.
I never imagined myself in my mother's situation but in my teens I was very into reading about the Holocaust and I thought about that a lot. I would like to think I could cope but thinking about it is one thing. It's another thing to be in a situation like that. So I don't know. There's a lot I know I don't know.
Now my parents just got separated. I mean it's two years ago but it's official this weekend, and I chose to live with my father. I became very distant with my Mom. Our personalities just don't match very well. To get to know my mother as I'd like to know her, I have to grow up a little bit more and be able to accept more. I think we both have to put our guards down. And I definitely want that. But that takes a lot of time. That will take growth and more acceptance.
I spend Fridays with her and we usually have brunch on Sundays with all of us and I occasionally stay the whole weekend. It's not like we're hanging out and going on hikes or whatever. I have homework, she's applying to Ph.D. programs. Then it's like it's 11 PM and she's on Facebook and I'm going to bed. And Saturday I want to be out with my friends anyway, but I think this works for me and for her.
So when you ask what it's like being the child of a survivor, I didn't really do anything. I just kind of saw things. I'm just kind of a byproduct.
---
Powered by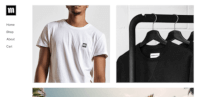 Create your own unique website with customizable templates.